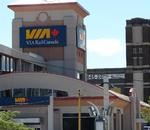 Source Link: By Chris Vander Doelen, Windsor Star
Windsor will get a new or at least upgraded Via Rail station out of the new budget.
Essex MP Jeff Watson said he had not heard how much money will be available for the Windsor project but $407 million in cash has been set aside in Budget 2009 for "infrastructure and other capital improvements."
The big ticket item in the rail budget items will be building a third track to fix bottlenecks in passenger train travel between Toronto and Montreal.
The "triple-tracking" at key locations is expected to cut 30 minutes off the trip and permit the addition of two express trains per day on the congested corridor, the federal government says.
The rest of the funding will be used "to modernize Via Rail Canada's fleet of locomotives and passenger cars, and to upgrade key stations in Windsor, Toronto, Montreal, Vancouver, Hamilton, and Belleville," according to the budget.
Watson said he did not know how the money would be allocated between the locations.
Budget 2009 also sets aside an additional $28 million over five years for Ottawa's rail Grade Crossing Improvement Program, aimed at "improving safety at public grade crossings across Canada."
cvanderdoelen@thestar.canwest.com, or 519-255-6852.