Civilized and unhurried travelling, slow cooking and refined dining, listening to re-mastered stereo albums of The Beatles on vinyl, film noir from the '50s, nostalgia fashion and re-discovering weekend getaways without going far away are lifestyle trends that are coming back in style in Canada.
This means that the concept of leisured journeys like it used to be is currently being enjoyed by today's generation of Canadian baby boomers and their elders who are enjoying their golden years.
Both groups have the time, the money and the ability to enjoy life to the fullest. They have countless opportunities to reshape contemporary lifestyle because of their demographic power. Slowing down does not mean slacking down on worldly activities.
Because of the economic downturn, more and more Canadians are staying at home and enjoying weekend getaways close to where they live.
One mode of transportation that is now enjoying a healthy comeback is travelling on VIA RAIL CANADA to enjoy once again Canada's legendary and classic train journeys. It's a travel experience unlike any other. It's comfortable, luxurious and romantic. You travel in classic stainless steel and art deco-style cars, just like in the movies.
You don't suffer the indignities of waiting at crowded airports, taking your shoes off when your luggage is checked, cramped airline seats at coach, bad or no food, suffer the noise of wailing children or being treated like a cow by a harassed attendant or fear that the customs officer may think that you have liquid explosive in your bottled water.
One can book a three-day and two-night journey on VIA RAIL from Vancouver to Jasper and back. The train travels 1,160 km between the Rockies and the north Pacific coast through breathtaking and varied landscapes. It is a voyage of discovery and the realization that Canada is truly a vast country and it has kept the beauty of rich forests, natural landscapes and its wilderness.
The Vancouver to Jasper run is short and long enough to experience trail travel. The train leaves Vancouver at 8:30 p.m. on a Friday, arrives Jasper Saturday afternoon. A night at the Fairmont Jasper Park Lodge and dinner at the world-renowned Edith Cavell restaurant are highly recommended.
Return to Vancouver is on Sunday afternoon, to arrive Vancouver Monday morning around 9 a.m., fully refreshed. It is best to check the schedule that fits your travel plans.
I have vivid memories of sipping champagne in the observation dome car while Vancouver slowly faded from my eye level, drinking coffee while working at the game room with large picture windows, taking long naps in a functional private compartment and a long shower before breakfast. There were memorable breakfast, lunch, dinner, all freshly prepared by the on-board chef. The chefs prepare seasonal cuisine to fully showcase the best of Canadian ingredients, vegetables, meats and fruits.
Jasper was a revelation. Besides the National Park which is a wildlife sanctuary, there are unforgettable mountain lakes and views. It is no wonder that over two million visitors travel to Jasper and is among the country's most-photographed places. It has a laidback mountain lifestyle but offers first-class accommodations and gourmet dining in several renowned restaurants.
By Mel Tobias, Philstar.com, >>> continue reading
..
Canada By Train: The Complete VIA Rail Travel Guide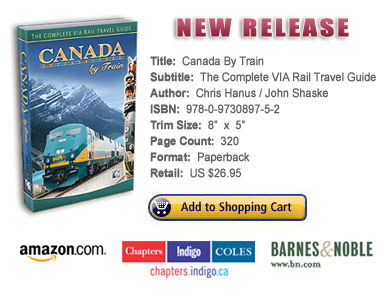 …