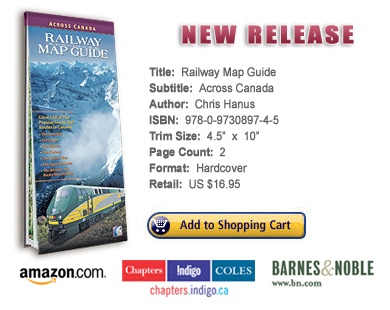 ….
Everywhere, Canada unfolds with the charms of nature's handiwork—the majestic Rocky Mountains and potent waters of Niagara Falls, the vast folds of rolling plains, the unending coastlines. These natural wonders blend harmoniously with bustling Canadian cityscape—from electric Toronto to glamorous Montreal. A trip to Canada has never been so enjoyable and enriching with this map guide. Open up to fascinating pages of colorful vistas and see it come to life with every turn of the train. In this guide you'll find:
All of the popular scenic rail routes—The Canadian, The Skeena, The Ocean,
The Chaleur, The Hudson Bay, The Rocky and Whistler Mountaineer
A speed table to help you determine the speed of the train
Extensive charts of cities and towns along the way, highlighting distances between communities & other important information
The Railway Map Guide covers all the essential information you need to plan a truly memorable experience. It identifies 300 points of interest and allows for an easy interpretation of railway signals and signs. Find rivers and their tributaries, tunnels, bridges, snowfields, and much more!
Whether you travel by train, by car, or in your armchair, whether you are a visitor or a local commuter, this souvenir map guide will bring local geography to life. The Across Canada Railway Map Guide truly captures the essence of the enchanted landscape of Canada.
Look Inside