OTTAWA — Faster trains, more frequency and punctuality are among the priorities of the new boss at Canada's national passenger rail service.
After a difficult year in 2009, with declining revenues because of the global economic slowdown, Via Rail's newly minted president says he expects to see ridership levels grow as new investments make train trips more attractive than travelling by road or air.
Via's focus has been on the Central Canada routes between Quebec City and Windsor, Ont., which make up nearly 80 per cent of the Crown corporation's business. But it is also introducing some upgrades to its cross-country trains that through the Rockies to Vancouver.
"The trend is more positive this year," said Via Rail president and CEO Marc Laliberte in an interview with Canwest News Service. "We see an increase in ridership and again we're getting out of this recession."
While the federal government is continuing to participate in a study with Ontario and Quebec on the feasibility of high-speed rail between Quebec City and Windsor, Laliberte noted that it will be up to the governments to make a final decision.
"If they decide to go, we'll be there to help and assist, but meanwhile, we still need a conventional service," he said.
"Right now my focus is really to improve on that service, get better efficiency and better operations on what we have already and so to increase the ridership."
In its annual report, released earlier this month, Via reported that its overall revenues, not including government funding, dropped to $264.9 million in 2009 after several years of revenues of at least $285 million.
It was also a significant drop from the record-breaking year of 2008, when the company's revenues reached $299.2 million.
Read more: The Gazette
.
Canada By Train: The Complete VIA Rail Travel Guide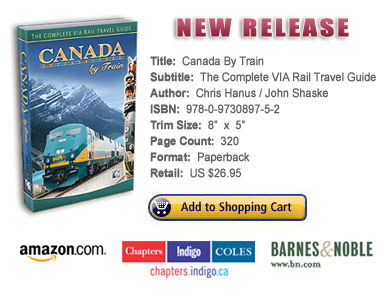 …