COLUMBUS, Ohio — Amtrak has put a nearly $518 million price tag on Ohio's plan to restore passenger train service to its major cities, a higher-than-expected cost driven by the need to buy new rail cars that challenges the state's goal of running trains as early as 2011.
Amtrak's inventory is tight, and because of the significant number of train sets and coaches required to launch service connecting Cleveland, Columbus, Dayton and Cincinnati, about $175 million in new equipment is needed instead of refurbishing cars currently in storage, the agency recommended in a study released last week. That would bump up the expected cost to $517.6 million, Amtrak said. State transportation officials had anticipated the overall cost to be lower, closer to $400 million.
Designing and delivering the new train cars would take several years, Amtrak said.
"I think 2011 is pushing it," said Ken Prendergast, executive director of All Aboard Ohio, a rail advocacy group.
The much-anticipated Amtrak study gave Ohio the key data it needs to meet an Oct. 2 deadline to apply for a slice of $8 billion in federal stimulus money that President Barack Obama has set aside for rail projects. Front-runners appear to be high-speed rail projects in the Midwest and California.
Amtrak predicted that startup service in Ohio, with conventional-speed trains running up to 79 mph, would draw 478,000 riders each year, comparable to the agency's Chicago to St. Louis route, which has similar demographics. About 6 million people live along the 255-mile Ohio route, making it one of the most heavily populated corridors without rail service in the Midwest.
..
By Matt Leingang, Forbes.com, >>> continue reading

..
USA West By Train: The Complete Amtrak Travel Guide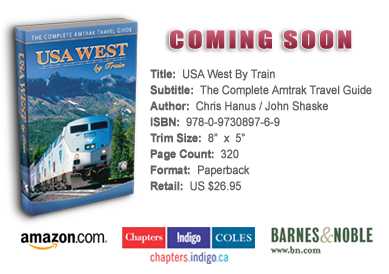 …