Revelstoke steams into Railway Days this weekend, which is our annual celebration of all things railway. The Revelstoke Railway Museum, located right next to the CP Rail line, hosts the event. James Baring, 6th Baron Revelstoke, was the guest of honour at the 2009 Revelstoke Homecoming due to his historical connection with the completion of the the CP Rail line, which was arguably a significant factor leading to the creation of Canada. CP Rail is a major employer in Revelstoke, with a proud history stretching back over a century.
Yet, despite these and many more connections our community has to the railway, you can't take the train to Revelstoke. This despite the fact that many Third World countries enjoy better point to point passenger rail services than Western Canada — or Canada in general for that matter. Concerns about reducing greenhouse gases, treacherous winter road conditions and provincial goals to increase tourism in B.C. all support the concept of improving rail service to Revelstoke.
This lack of service to his namesake community did not escape the attention of Lord Revelstoke, who penned a letter of thanks published in the Aug. 5 issue of the Revelstoke Times Review. In the letter, he expresses his hope that he can arrive by train for the next homecoming event in Revelstoke. "I have been studying the Internet booking system which is succeeding in filling every seat on the EuroStar express that runs between London and Paris by balancing supply, demand and price," writes Baring. "A package offering to the world a skiing break at Revelstoke, arriving by train from Toronto, Calgary or Kelowna, advertised and bookable online all over the world, would be fully subscribed."
He isn't the only one with that goal in mind. At their June 30 meeting, the Revelstoke Economic Development Commission discussed the matter, saying it was a "high priority" and asked that Director of Community Economic Development Alan Mason follow up on the item when he meets with CPR officials at a regularly scheduled meeting in September.
Mason says the matter comes up every couple of years and he will pursue it further at the September meeting.
By Aaron Orlando, Revelstoke Times, >>> continue reading
..
Canada By Train: The Complete VIA Rail Travel Guide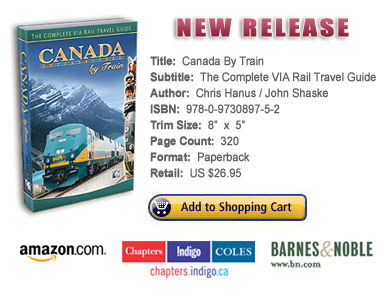 …