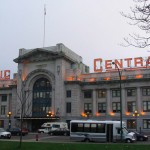 VANCOUVER, Dec. 26  – VIA Rail Canada wishes to advise travellers that due to a derailment in the Vancouver terminal blocking the main rail line, and which will not be cleared until Saturday morning, it has cancelled today's departure of the eastbound Canadian between Vancouver and Toronto.
The derailment occurred during the servicing of the train and as such there were no passengers or crew on board the train at the time of the derailment.
As a result, VIA is making plans to accommodate all passengers on the next departure of train No.2 which is scheduled to depart Vancouver on Sunday, December 28, 2008.
Regular service between Vancouver and Toronto will resume from Vancouver, on Sunday, December 28th, at 8:30 p.m. VIA is attempting to contact all affected passengers to advise them of the change.
VIA wishes to apologize for any inconvenience this disruption may cause to its passengers. Customers wishing further information may visit our website viarail.ca or call 1 888-VIA RAIL (842-7245) or 1 888-842-6348. Further updates will be issued as required.
For further information: VIA contacts: Catherine Kaloutsky, Corporate Communications, (647) 228-1127