.
Railway Map Guide: British Columbia & Canadian Rockies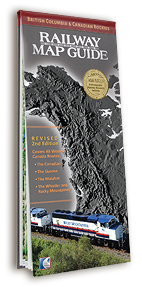 The award-winning British Columbia and Canadian Rockies Railway Map Guide is the definitive reference to the spectacular passenger railway routes across British Columbia and western Alberta. This full-colour souvenir map guide follows the present and historic mileposts of the legendary passenger railway routes of Canada's rugged, mountainous far west. These are the historic railways that opened Canada's west to settlement. In this map you'll find:
Rocky Mountaineer, and VIA Rail routes;
Realistic 3-D perspective maps for instant orientation;
Extensive charts of cities and towns along the way, highlighting distances between communities and other important information;
A speed table to help you determine the speed of the train.
The Railway Map Guide covers everything you'll need to know along the way, including railway signals and signs. It identifies 300 points of interest and over 200 majestic mountains (some visible from the train). Find rivers and their tributaries, tunnels, bridges, snowfields, glaciers, and much more!
The British Columbia and Canadian Rockies Railway Map Guide truly captures the essence of the enchanted landscape of Canada's far west. Whether you travel by train, by car, or in your armchair, whether you are a visitor or a local commuter, this souvenir map guide will bring local geography to life.